Burger King Adds Impossible Whopper to Their Menu
Burger Kings are giving vegetarians an option.
Burger Kings in the United States are adding Impossible Burgers, fully vegetarian burgers that are designed to taste exactly like meat, to their menus.
Burger King's signature Whopper has been their trademark since 1957. The Whopper was originally created by Burger King's co-founder James McLamore.
"It's really important to have a vegetarian option on restaurant menus because there are lots of vegetarian people that go to those places," Daisy Koch, a Woodside freshman, said.
Koch is one of the many Woodside students that are vegetarian. She feels that there isn't enough recognition that there are people that don't eat meat. Everywhere she goes there aren't many vegetarian options.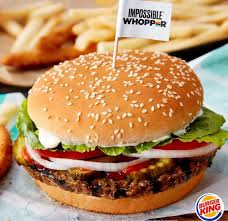 "I rarely go to a place that actually has something meant for vegetarians," Koch stated. "Most foods seem to be made not thinking about the fact that there are some people that don't eat everything."
We hope to see more vegetarian options on fast food restaurant menus in the future. Impossible Industries, the creator of the Impossible Burger, is a Silicon Valley-based company that has the goal of creating vegetarian alternatives for meat.
"I hope that I start to see this on every menu I see," Koch reflected. "It makes it hard to have to search the menu just to find something I can eat."