Tenth Annual Build-A-Basket Provides Donated Items for Homeless Families
LifeMoves volunteers work to end homelessness during the 10th Annual Build-A-Basket.
Taila Lee, Co-Editor-in-Chief
December 15, 2018
Families gathered at the Elks Lodge to prepare hundreds of gift bags for the Bay Area's homeless community during LifeMoves's 10th Annual Build-A-Basket on December 15.
LifeMoves, a local organization, aims to "break the cycle of homelessness" by providing temporary housing, support, and services for homeless families. Over 16,000 people volunteer for LifeMoves each year, and about 180 families showed up to help at Saturday's event. Volunteers of all ages assembled about 200 bags of donated food, along with about 100 toiletry and linen kits.
"LifeMoves operates transitional shelters along the Peninsula from Daly City to San Jose, and it focuses on people moving from homelessness to self sufficiency," LifeMoves volunteer Kelsey Reed said. "It's about giving [families] the tools for self-sufficiency, whether that be financial support or support for mental health."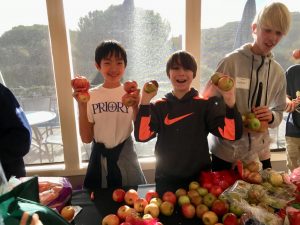 The cost of living in San Mateo County and Santa Clara County is almost 50% higher than the national average. Job loss, illness, family issues, and substance abuse are some of the leading factors that can force families out of their homes and onto the streets.
"Woodside is part of the Peninsula… [and] some people are unable to afford rent here," Reed stated. "We're definitely impacting neighbors directly."
Former LifeMoves client Shawnee recently moved into a two-bedroom apartment in San Mateo after a divorce from her husband. At the volunteer event, she shared her experience with homelessness and how LifeMoves changed her life for the better.
"I am so grateful for LifeMoves volunteers and volunteers like the people here today," Shawnee said to the crowd, tearing up.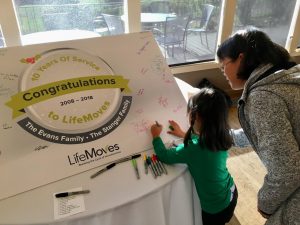 Dena Evans, a Woodside High School parent and event organizer, has volunteered with LifeMoves for 10 years.
"I actually think it's more important to think of other people at other times of the year, not just the holiday," Evans explained. "It's easy to get into the spirit of the holiday season, but people have needs for [all] 12 months of the year."
With a prominent focus on self-sufficiency, LifeMoves not only provides clients with food and temporary housing but also life skills education, services for children, mental health support, and transportation needs.
"It's not just about giving [families] a place to live," Reed explained. "It's really about empowering them to be able to live on their own."