New York, New York: On the Town at Woodside High School
Students show off their acting chops in this year's musical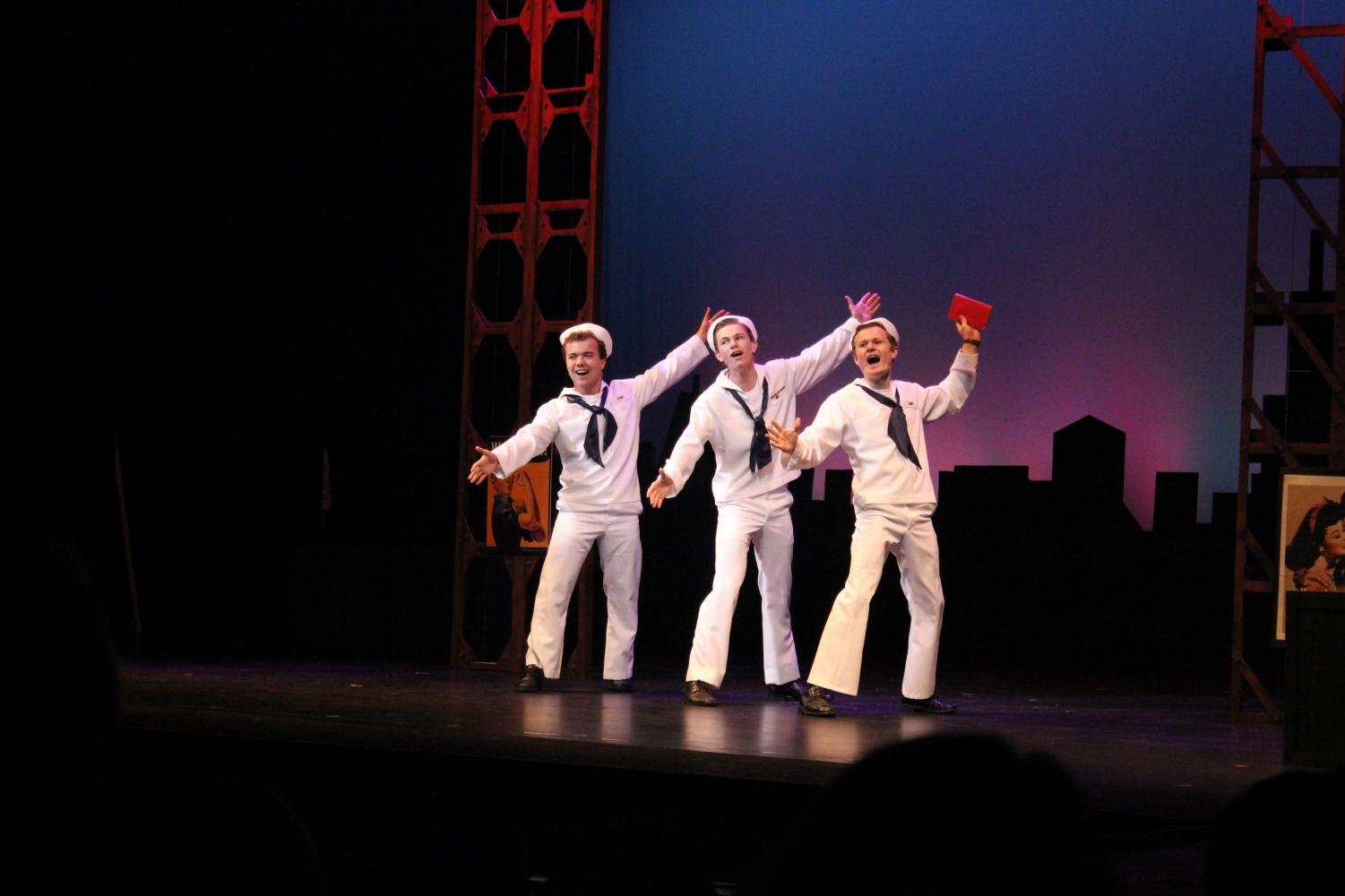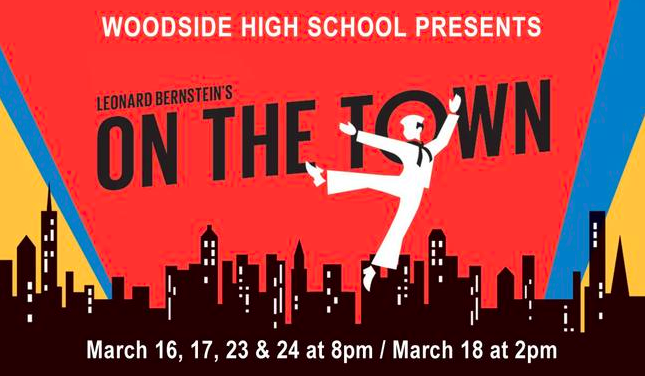 The Woodside High School Performing Arts Department entertained and awed crowds with this year's spring musical On The Town on March 16th, 17th, and 18th.
The overall reception of the student's performances was extremely positive, and rightly so. The kids in this production hit every note perfectly; the story, actors, and music were all crowd pleasers.
On The Town is a musical which first debuted in 1944- it was the first Broadway Musical of the now legendary Leonard Bernstein and Jerome Robbins. The plot is centered around three sailors, Gabey, Chip, and Ozzie who are given 24 hours to explore New York City before they head back to the sea. During this time, each man goes on his own adventure, but they are all tied together by one mission, finding "Miss Turnstiles of the Month" for Gabey.
In Woodside's version of the musical, director Barry Woodruff cast senior Derek Smith as Gabe, senior Stefan Sujansky as Chip, and senior Christian Canellos as Ozzie. Their love interests are played by senior Cella Hussussian, junior Samantha Borthwick, and senior Sophia Ashworth. These characters are accompanied by a group of strong supporting characters including senior Sean McCrystal as the goofy Judge Pitkin W. Bridgework and senior Mollie Kraus providing great laughs as Lucy Shmeeler.
One of the most stand-out parts of this production was the great singing done by the cast. Aside from just the leads, actors in smaller parts like junior Alex Kastelein and sophomore Michael Sacco as Navy Yard Workers wowed the audience with their voices in the opening song, I Feel Like I'm Not Out of Bed Yet.
Senior and crew member Paloma Felix reflects on the production saying, "The music is fantastic and the actors are really great- tech does a great job as well."
Audience members seemed particularly pleased with the entertaining storyline throughout the musical. Senior Cameron Vaughan, who saw the play opening night, said, "I enjoyed the way the plot was drawn out- you hope that Gabe gets the girl, but you don't know if they're going to run out of time beforehand."
Cast member Derek Smith adds, "My favorite part about this show is the degree of character development, for not only the lead roles, but also supporting and ensemble roles."
The cast of On The Town clearly impressed Woodside's community with their stellar performances. Vaughan adds that the cast "seemed really committed to their roles, and… worked well together."
Smith adds, "The show this year has been a great experience for cast members of all ages. [Every cast member] from freshman to senior has been able to create friendships."
Altogether, Woodside's Performing Arts Department pulled off another great show this March with On The Town. Catch the last two performances March 23rd and 24th at eight pm in the PAC.
As Vaughan says, "The suspense [of the plot] ends with a happy ending, and makes for a great show."