Emerald Hills Residents Respond After Placement of Ex-Convict in the Area
The Redwood City community's response is raising questions about the placement of ex-convicts.
A Emerald Hills homeowner has rescinded the offer of housing to ex-convict Michael Thomas Cheek after Redwood City residents protested against the Superior Court of California's ruling that Cheek be placed in Emerald Hills.
Cheek was found to be a "sexually violent predator" in 1997 after being convicted of raping two women, aged 15 and 20 years old, in 1980 and 1981. Currently 69 years old, Cheek served 20 years in state prison before being committed to the Department of State Hospitals in Coalinga, California. In October 2019, the Honorable Stephen Siegal ordered Cheek's conditional release, which included outpatient treatment and supervision. The court later ordered that Cheek be placed in the Redwood City area of San Mateo County — more specifically, Emerald Hills. The residents of Emerald Hills responded in many ways after they were informed by the Redwood City Police Department and San Mateo County Sheriff's Office that Cheek would be moving into the area. This response led to the home owners no longer allowing Cheek to rent the house.
Many residents of Emerald Hills shared similar concerns over Cheek potentially moving into the area.
"Our area has a group home of mentally challenged adults, it has a preschool, it has a daycare, it has a women's health center," Debbie Balfanz, an Emerald Hills resident, voiced. "It has a school where all the kids walk… so it seems like there are a lot of potential victims for this person." 
Woodside junior Chloe Montgomery also had concerns over Cheek's moving into the area, particularly because of the prevalence of teenagers in the neighborhood.
"I think [I'm concerned] mostly because we live right between two schools," Montgomery said. "Prior to COVID we had young children walking home from school every day. So I'm mostly concerned for them. And then there's also concern for the two teenage girls … [who] would hypothetically… live right by him."
Woodside junior and Emerald Hills resident Isla Steven-Schneider's feelings were mixed on Cheek's living situation.
"I mean, I feel like I'd have to give the answer that anyone would give: 'Why would anybody want to live next to a sexually violent predator?'" Steven-Schneider expressed. "I don't think anybody would ever say that's something that they would really want; so I would say that my reaction was just [that] it wasn't ideal, but, I mean, where else could he go?" 
Criminal defense lawyer Daniel Barton had a different view on the situation.
"Right now he's 69 years old, and he's still paying the price for what he did in his twenties," Barton said. "I think that that's contrary to an ethic that we have as a culture that people are punished proportionately to their crimes. And that's based on punishment that's approved by the legislature and it's the law. And when the courts decide it's time to release somebody, the public has a duty to foster that person's reintegration into the community." 
One of the main ways that the public was informed of Cheek's moving into the area was through the door-to-door knocking conducted by Redwood City Police Department and the San Mateo County Sheriff's Office.
"While [the police] said they couldn't technically tell us to protest, they kind of provided us with an email and a phone number to call should we want to protest," Balfanz explained. "[This included] all the reasons and ways in which we could more effectively protest."  
Steven-Schneider lives near many of the people who were visited by the Redwood City Police Department and the San Mateo County Sheriff's Office.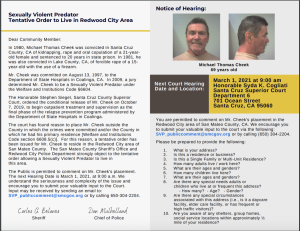 "I think it was really interesting that the sheriff was the one who really pushed for the residents to not house him in Emerald Hills and… wanted them to protest," Steven-Schneider voiced.
Based on what he heard, Barton was disappointed with the police department and the sheriff's office for their actions.
"It's really hard to find a place for somebody when the sheriff and the local police chief go door to door and stir up animosity and fear in the people who live nearby," Barton said. "In most communities, they would have allowed him to move in. And… it's really a shame that that didn't happen at the place in Redwood City." 
After residents of Emerald Hills were informed of the possibility of Cheek moving into the area, there was protest and discussion online. The residents also used other forms of protest like sending emails to the court. 
"[Adults in the area] were posting about it on their social medias," Steven-Schneider said. "I don't think I even saw anything that had any sympathy for him at all… but I think you also have to consider his side of the equation… even though he might not be living in Emerald Hills near us anymore, he's still gonna be moved somewhere."
Due to the fact that Cheek had had multiple trials over the years for his different offenses, some misinformation spread about the state of his mental health.
"People on NextDoor had dug into court records and did find court records where there were experts that said he was likely to offend again," Balfanz commented.
This claim is actually not true, and came from one of Cheek's previous trials, not the trial about his placement in a home.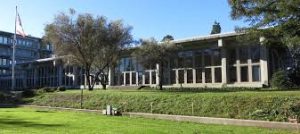 Some criticized the public's response to the news of Cheek potentially moving into Emerald Hills.
"The things that I've read from the neighbors scare me… a statement that he should never ever be let out. Several people said that he should be killed," Barton stated. "Our country has a really ugly history of… taking out people away from the legal system and killing them. And there was an aspect of the public response to Mr. Cheek's finding a residence that was reminiscent of that era of lynching." 
One other form of action that the residents of Emerald Hills took was contacting the owner of the house Cheek planned to rent. 
"People called the owner of the property to inquire what was going on," Balfanz said. "I've heard people called the son of the owner of the property to ask how his mother could be doing this."
Recently there has been a lot of criticism of the United State's criminal justice system, which further complicates Cheek's situation.
"Lately there's been a lot of public response to the problem of mass incarceration and saying, 'We're locking too many people up… our country has the highest per capita rate of incarceration of any country in the world,'" Barton said. "We need to reverse that trend. But the way the local police agencies played on people's fear and their desire to keep somebody out of their neighborhood is that whole dynamic that brought us into this problem of over-incarceration."
This particular case also has brought up discussion of the effect of class differences on the placement of ex-convicts after getting out of jail.
"It's common for wealthy privileged neighborhoods to do this, and it's kind of a NIMBY [Not In My Backyard issue]," Barton remarked. "Somebody like this has been determined by the courts [to] be safe for release, and [the residents of Emerald Hills are] just saying 'we don't want him in our neighborhood.'"
Steven-Schneider, who lives in Emerald Hills, also recognized this issue.
"I feel like this kind of goes back to the whole talk of privilege, where Emerald Hills is really a neighborhood where there's a lot of rich, really privileged people," Steven-Schneider said. "So to be able to have your voices be heard… I think that's really about privilege…. He could just be moved as easily to another county or another city where the general area isn't really as wealthy and… their voices aren't being heard."