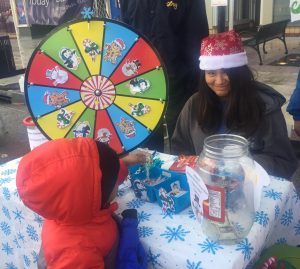 Redwood City's annual Holiday Parade welcomed the holiday season last Saturday despite the rain.
On the first Saturday of every December, Redwood City holds its Hometown Holiday Parade downtown to kick off the festive season. Even though this year's parade was literally rained on, numerous attractions still brought in a great crowd. The Boy and Girl Scouts, Studio S Dance Troupe, Bayshore Gym, the Woodside marching band, the Woodside dance team, Ballet Folklorico, and even SamTrans joined in. Besides watching the marchers, children could participate in activities created by the Parks & Rec Youth Advisory Board.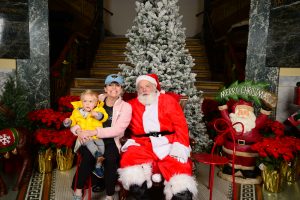 "I loved the parade," said Lexi Sowiski, mother of Girl Scout Kayla Ringheimer. "It was a wonderful experience and full of holiday spirit."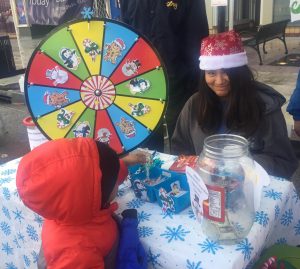 The event began at 10 a.m., with a variety of stands and entertainment. Kids enjoyed carnival rides and a snow play area, which was especially popular as some had never seen snow before. There was also a free Santa Claus photo area, where parents could take their children to have their photo taken with good old Saint Nick himself. The Parks & Rec Youth Advisory Board (YAB) ran a stand with a snowball toss, a knockout game, and a holiday spin game, all for free.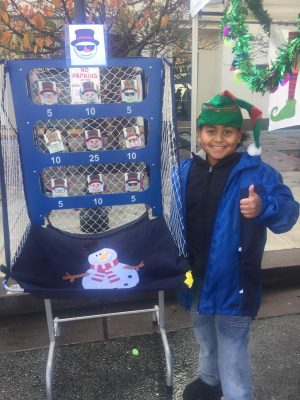 "Even in the rain the families still came out and had a good time," stated Jodie Fernandez, who ran the YAB stand at the parade. "All the lights, costumes and music are fun for our town. If you are a tiny toddler or a senior citizen it's fun for all to enjoy together."
At around 4 p.m., the parade officially started, with an appearance by a motorcycle club wearing elf hats and Girl Scouts walking with their mothers. Woodside's marching band and Woodside's dance team also participated, showing to the crowd what Woodside had to offer.
"It was really fun for the team, and I to be part of a fun holiday tradition that is shared by the whole city," stated Izzi Brattesani, a senior and four-year dancer at Woodside. "I wish I could do it next year."
The band had a great showing, with it being many of the members' first times marching while playing.
"We play in the parade every year," Woodside freshman Gabriel Beddar explained. "I can't wait to do it next year; it was a ton of fun, and I'd love to do it again."
After the parade ended, the Holiday Train came through the train station, decked from engine to caboose with Christmas spirit. At 5:45 p.m., the band performed again, and finally the Christmas tree was lit up, concluding the day's festivities. Many families were able to come out and enjoy the activities and the lights, and the parade undeniably geared people up for the holiday season.