Remembering Senator John McCain
While John McCain has passed away, recollections of his lengthy career remain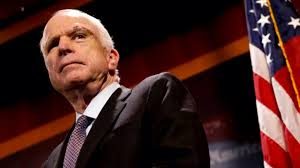 Senator John McCain, two-time presidential contender and Vietnam War hero, died on August 25th, 2018, but his legacy as a maverick and force for governmental change lives on.
Since 2017, Senator McCain fought a malignant glioblastoma brain tumor; on August 24th, he chose to discontinue treatment and spent his last days at home among close family.
Many political staples in Washington, D.C. have issued statements of condolence, including Barack Obama, who called the Arizona senator a "person of classic integrity… willing to say things regardless of the politics."
Both former presidents Barack Obama and George Bush gave eulogies at McCain's memorial, which took place at the Vietnam Veterans Memorial in Washington, D.C. The two former presidents, who both faced McCain during their campaigns, honored him as a man of unusual character and rare compassion. Notably absent from the memorial was President Trump, who did not attend any of the services for the senator.
Olivia Beriker, a senior at Woodside Priory, believed the eulogies encompassed McCain's compelling career. "The fact that two presidents of different parties both had such good things to say about him shows the kind of man he was," she explained.
McCain's career, spanning decades, reflected this imperfect but honorable approach to life. Beginning as a naval aviator during the Vietnam War, he was shot down over Hanoi in 1967 and taken as a prisoner, where he suffered torture and solitary confinement. He refused early release and returned to the United States as a war hero in 1973.
While reflecting on his experience in his memoir Faith of My Fathers, McCain said, "In prison, I fell in love with my country. It wasn't until I had lost America for a time that I realized how much I loved her."
"
The fact that two presidents of different parties both had such good things to say about him shows the kind of man he was."
— Olivia Beriker
After coming home, McCain embarked on a career in politics, but his burgeoning work was quickly marred by scandal. In the late 1980's, he and five other U.S. senators were accused of aiding their political benefactor Charles Keating by preventing the government from seizing one of his companies. While John McCain was eventually cleared of all charges, the 'Keating 5' scandal and subsequent hearing ghosted him throughout his political career.
"He's a hero, but even heroes make mistakes… throughout his career it was proven he was not perfect, but he showed there is more than one way to be a leader," Ryan Harrison, another Woodside Priory senior, affirmed.
This statement certainly rings true of Senator McCain. Throughout his career, he worked on defining bipartisan bills, including an especially notable 2007 comprehensive immigration bill.
In addition, in one of the defining moments of his career, Senator McCain was one of three Republican 'no' votes on an overhaul of the Affordable Care Act, giving a decisive thumbs down on one of his party's most defining legislative policies. McCain was perturbed by the swiftness of the bill, asking his fellow senators to "do the hard work our citizens expect of us and deserve" by continuing to make changes.
While greatly displeasing his party, the decision represented what McCain stood for. A self-proclaimed 'maverick,' McCain created a path for himself not defined by party boundaries but by personal morals.
Above all, Senator McCain was a believer in a better, more united America. As he famously said, "Americans never quit. We never surrender. We never hide from history. We make history."