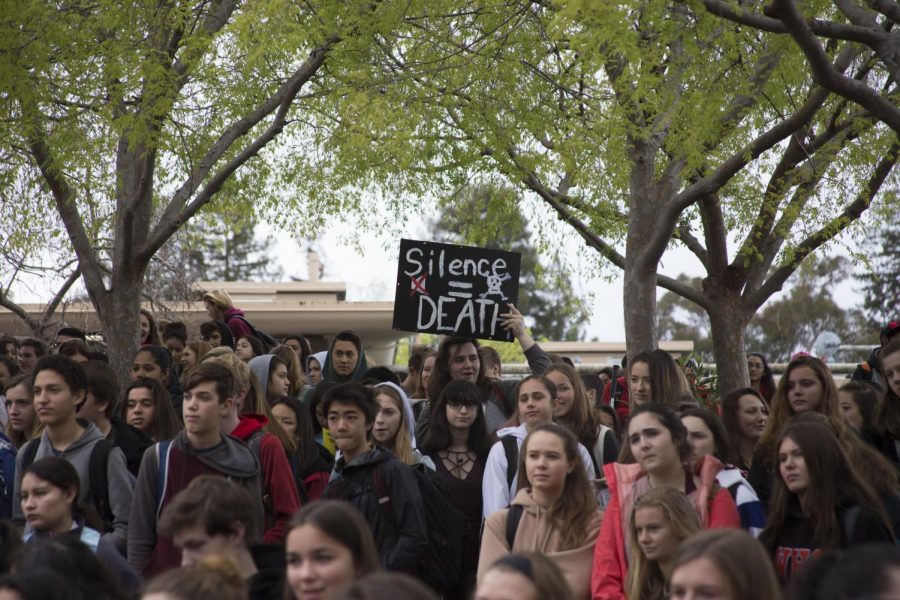 Woodside administered a school walkout on March 14 to honor victims of gun violence and to protest the United States' controversial gun laws. Many students took the chance to use their voice and speak up for their opinions.
In reaction to the Parkland Shooting on February 14, students across the country agreed to participate in a seventeen minute walkout at 10:00 AM, designating one minute to each victim of the crime. Woodside High School intended to start brunch earlier at 10:00, and to run activities related to gun control until the end of brunch at 10:35.
Woodside Principal Diane Burbank explained how the Sequoia Union High School District obligated the schools in Woodside's area to participate in some form of the walkout.
"The Sequoia district superintendent is supportive of the 10 am observation of the #ENOUGH movement and allowed principals to structure the time and the content to fit their campus and bell schedule," Burbank says.
The walkout began with BOSA President, Stefan Sujansky, giving an opening statement describing the administration's goal, as well as expressing his personal views on gun control.
"Whether conservative or liberal, freshman or senior, quiet or talkative, we are all here for the same reason: we as young people are sick of gun violence in this country," Sujansky announced, before continuing to honor the victims of the recent shootings with a moment of silence.
According to Every Town, America is held accountable for 46 percent of the world's population, and 86 percent of the world's gun homicides. Many students used the open microphone as an opportunity to compare the United States' gun violence to other countries.
"We can look at the other countries and we can learn from other people's mistakes. And we can end gun violence. Children should not have to go to school in fear of being killed," an unnamed student speaker stated.
Although the majority of students at the demonstration expressed liberal views on gun control, a few confident students stood up in support of guns.
"It is really important to remember you have a Second Amendment right. You should respect it, you should remember it," declared an unnamed spokesman.  "You should be able to protect yourself from criminals, but not just that: you should be able to protect yourself from your government. And what happened was really sad, but sometimes gun control just isn't the answer; there's many other factors."
Woodside High School successfully helped students register to vote, share their opinions, and stand up for what they believe in through the #ENOUGH Walkout on March 14.
"The most we can do right now is raise awareness and [let] people know, [have] these conversations, and not just [let] it blow over with thoughts and prayers," junior Danny Whiting shared.