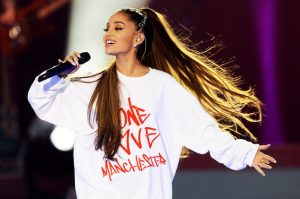 Taila Lee and Chloe Postlewaite, Co-Editor-in-Chief, Health/Lifestyle/Tech Editor; Design/A&E Editor

March 1, 2019
Taila Lee and Chloe Postlewaite discuss Ariana Grande headlining Manchester Pride and the implications of Grande's recent "break up with your girlfriend, i'm bored" music video.
Woodside Presidential Poll
Click here to let us know which candidate is your favorite.
Woodside Question of the Week
Click here to talk about your Instagram following!
Twitter
A marmot stands frozen in fear, slack-jawed and balanced on one foot, as it suddenly notices a charging fox.

The dramatic image, captured by photographer Yongqing Bao, has won the prestigious Wildlife Photographer of the Year award. https://t.co/mSbJ1mOK0U
CONTEST RESULTS! Congrats to all of our winners from the #NorCalMedia Day on-site contests: https://t.co/9hMWrRn3Fe
Congratulations to Taila Lee, who won second place in the Northern California Journalism Education Association Media Day Contest for review writing! 🎉 @jeaNorCal
Load More...