Eliud Kipchoge's Sub-Two-Hour Marathon Inspires Woodside Runners, Teachers
Which of your teachers has run a marathon?
Kenyan long-distance runner Eliud Kipchoge recently became the first person to ever run a 26.2-mile marathon in under two hours, leaving Woodside teachers and cross country students in awe of his momentous achievement.
The Olympic gold medalist and 12-time marathon winner succeeded in breaking this long-standing barrier on Saturday, October 12, at the Ineos 1:59 Challenge event in Vienna, Austria. His time of one hour, 59 minutes, and 40 seconds (1:59:40) stands as the fastest marathon ever run. Already, people are weighing in. 
"As someone who has run marathons, I feel impressed when anyone is able to complete a marathon, let alone run it in sub-two hours," Woodside English teacher and seasoned marathon runner Cary Kelly reflected. "It is just unfathomable to understand that a fellow athlete could run so quickly and beat this marker that, for a long time, could not be beat."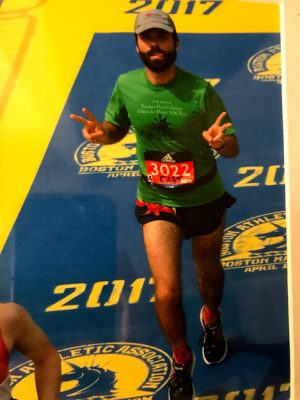 However, the International Association of Athletics Federations (IAAF) ultimately decided not to recognize the marathon as a world record. According to Standard Media, some deciding factors included Kipchoge's use of rotating pacesetters and a pace car (which are used in some races to help the runner dictate how fast they should be going to run the optimal time), and the fact that he had people on bicycles bring him drinks, both of which go against IAAF rules for official marathons. Kipchoge, however, stated in a press conference that setting an official record is not what mattered.
"The law of nature cannot allow all human beings to think in one direction," Kipchoge said. "I'm doing this just to inspire everybody and to send the message that no one is limited. I respect everyone's thoughts."
While not a rule-breaker, the type of shoes that Kipchoge donned for the race were also a matter of controversy. The type of shoe one wears might seem like another accessory, but they can play a crucial role in running a marathon.
"Shoes play a big role in our running," sophomore and cross country team member Nayan Smeuk explained. "Basically, they play a role in how much you get hurt and how fast you go. There are racing flats, which [the cross country team] wear[s] for meets. They have basically no padding but shave a second or two off your time, which can make a big difference in high-stakes meets."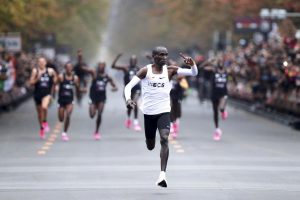 Kipchoge used a specially-designed pair of Nike Vapor Fly shoes that maximized his comfort. The shoes also included a carbon-fiber plate and newer, lighter foam in the soles to increase spring and make them one of the lightest in the business. 
"The shoe industry wants you to think that you need certain types of shoes for you to be able to run well," Kelly commented. "I think that is just marketing, and I think that sometimes simpler is better… I think there is a lot to be said about going for more minimalist footwear and giving yourself time to adapt so that you strengthen the muscles in your feet so that they are stronger and you are not so dependent on state-of-the-art technology to help you run."
Several Woodside staff have experience running marathons. History teacher Jenny Ortez recalls deciding to run her first marathon.
"I was sitting at my desk during lunch one day, and Ms. [Diane] House asked me, 'Hey, do you want to run a marathon with me?'" she described. "I said, not really thinking about it, 'Yeah! Let's do it!' Six months later, we did it."
For Kelly, however, it was family that got him into running.
"My dad is a runner, so I grew up having my father as a role model," Kelly detailed. "He was always out running a few times a week… eventually, I started running myself when I was in elementary school. By the time I finished elementary school, I was already hooked on running."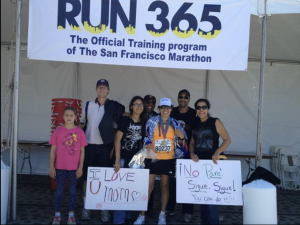 Even with months of hard training and serious determination, problems can often arise.  
"At mile ten, my ankle started to bother me, and I had to have it wrapped," Ortez described. "It got lonely in certain parts. In Golden Gate Park, it was pretty flat, but I still felt like I was the last one when no one was around. At mile 23, my knee popped, and I sort of had to limp the last three, and it was pretty painful. I know that, at the end, I had to continue to straighten and bend my legs because if I had continued to keep it in one place, it would've been painful."
Those misfortunes were one of the reasons why Ortez has given up on running another marathon. However, fellow history teacher Diane House continues to run them. 
"It has its highs and lows," House explained. "First, you don't just go run a marathon, you train [for] four to six months… Finally, when you are out there, as with any long-distance running, there is a point in the run where you feel like you can run forever, and then there is a point where you feel like you have to push yourself because it gets really hard… After I ran the first [marathon], I said never again, and then I was back again a second year."
Ultimately, while Kipchoge's record won't officially count for the record books, it will undoubtedly go down in history books and "set an example for aspiring marathon runners, including Woodside staff."
"[People will] see that it is still possible to set records and still possible to set new frontiers," Kelly articulated. "Hopefully, it also inspires more people to get active and push their bodies and see what us as human creatures can do."