Charli XCX Finds Her Voice
With her new self-titled project "Charli", Charli XCX shows that she's grown since the release of her last two albums.
The release of Charli XCX's third studio album, "Charli," has been marked by nonstop turmoil. Since 2014's "Sucker," the pop singer has seen hundreds of her songs leak online (including practically the entirety of what was originally planned to be her third studio album, referred to by fans as "XCX 3" or "XCX World"), worked closely with British experimental pop group PC Music, and released two full mixtapes and an EP. While her debut "True Romance," was an of-the-times pop record touching on well-worn topics like love and heartbreak, and her second album "Sucker" watered down pop punk into something even more radio-friendly, her recent music has been nothing but forward-thinking. In interviews, she frequently cites label interference and social pressures as factors that previously held her back on a musical level; now, it seems, those barriers have been lifted.
Despite this, "1999", the first single from "Charli," left a few fans and critics underwhelmed. While its catchy melody and tongue-in-cheek pop culture references were good enough for the U.K. charts, its lack of experimentation failed to win over those who still had growing doubts about XCX's sonic direction. Notably, this song marked the first collaboration between XCX and Troye Sivan, which was later paralleled on "Charli"'s closing track "2099."
Featuring rap star Lizzo, the album's second single, "Blame it on Your Love," received mixed critical reception upon release as well. Over a year prior, expectations for the track had been set sky-high when a remixed version of the song, featuring beautiful, otherworldly instrumentation, and a uniquely complex structure, was added to XCX's "Pop 2" mixtape; the disappointment fans felt when the new single was yet another "fun" song lacking experimentation was understandable.
Thankfully, the album's third single won over fans and critics alike. "Gone," featuring Christine and the Queens, combines a bouncy bass rhythm with honest lyrics tackling topics like mental health and the restrictive male gaze. The song's minimalism works to its advantage; its choruses are smooth and moving, its transitions are clear and crisp, and its lengthy, dance-influenced outro is downright triumphant. While four additional singles soon followed "Gone" before "Charli"'s eventual release, "Gone" had the most impact by far, creating an anticipatory buzz that surrounded much of the album's promotional cycle while also reigniting claims of XCX being the "future of pop."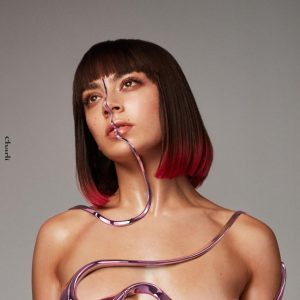 From the moment "Charli" begins, it's clear that it isn't going to be anywhere near a disappointment. "Charli"'s opener, "Next Level Charli," is technically a rerecording of an A.G. Cook song called "Big Bratt" that was released in 2014 (Cook also executive-produced "Charli" in addition to acting as XCX's creative director and heading PC Music). However, XCX transforms it into something much bigger. To some, its repetitive lyrics and relatively unchanging instrumental could be off-putting, but there's so much emotion held in its simplistic drum-and-synth beat and slow buildup that it creates a vivid party scene perfectly matching its lyrics: "Turn the volume up in the party / Put your hands up and dance / Bump bump, in the rave / Go forever and ever."
Other standouts on the album include "Click," where rising pop star Kim Petras and Estonian rapper Tommy Cash give vocal contributions alongside XCX. All three artists deliver stellar verses laid out over drums so intricate and intense they seem to defy definition, especially when taking the ear-splitting (and immensely satisfying) ending of the track into consideration. Another similarly rap-oriented song, "Shake It," sees XCX take a back seat in order to give Big Freedia, Cupcakke, Brooke Candy, and Pabllo Vittar space to shine over a similarly off-the-wall beat. XCX has learned through her mixtapes ("Pop 2" in particular) that letting other artists take the spotlight can sometimes lead to a project's greatest moments; it's a lesson that works as well as it ever has across "Charli"'s 13 features. Finally, the aforementioned "2099" is a perfectly anthemic send-off to an album full of experimentation, its complex instrumentation replete with sounds that appear to somehow be both synthetic and perfectly natural.
Yet even "2099," a song where Charli boasts, "Got visions, levels, they don't get me / Quiet, no discussions, please hush," is tinged with sadness. As XCX has frequently attested to in interviews, "Charli" is her most personal record. The song "Thoughts" pairs grand synthesizer chords with lyrics about a spiral of self-hate ("Are my friends really friends now? / Or are they far gone?"), "White Mercedes" is a ballad about feeling undeserving of love ("You know it's so hard to admit it / But the only good inside of me is you"), and "February 2017" — in addition to featuring an enchanting vocal performance from house/rap musician Yaeji — contains a duet with lofi singer Clairo about regret ("Sorry 'bout Grammy night / Was flyin' out my mind / Was in a different place / Tortured and drifting by").
While one would be remiss to ignore the tracks that, despite not being "awful," fall flat — a list that includes the comparatively unremarkable Sky Ferreira collaboration "Cross You Out" and the sluggish, HAIM-backed "Warm" — they're few and far between. Even "Blame it on Your Love" and "1999" still work as successful pop tracks and don't slow the energy of the album as a whole. Throughout its 50-minute runtime, "Charli" rarely lets up on showing a stunning vision of pop music's future; it's bright, it's honest, and it's breathtakingly unique.