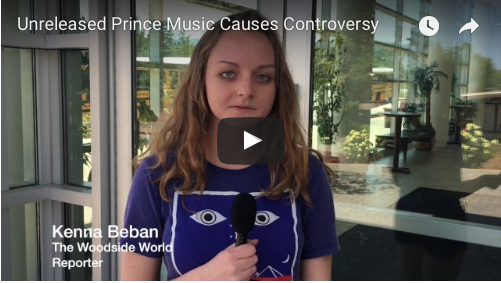 The death of world-famous pop star Prince was supposed to be the beginning of a new era of previously hidden music; however, his estate has different ideas.
A new EP of Prince music, mixed and engineered by his former colleague, was set to drop in April 21, 2017, a year after his death from overdose. However, minutes after the six songs were released, they were taken down due to a lawsuit by Prince's estate. They claimed that Ian Boxill, the man that put the unfinished works together, had no legal authority over the late artist's work due to a contract he signed at the beginning of his career.
Many Woodside fans attended the March 4, 2016 Prince concert at Oracle Arena just weeks before his death. "That concert was very surreal…it was amazing," Mason Moss, a Woodside junior said. "Me and my brother really found new respect for Prince because of that concert."
Prince had a history of suing for using his work without his permission; in 2007 he filed a lawsuit against YouTube and eBay for posting his work, and later against a fan group that regularly posted pictures and videos of his performances.
The unreleased EP was cancelled for similar reasons. His estate, partially owned by Paisley Park (his record label), Comerica (the bank that manages the estate), and his heirs, claimed that the recordings were "Prince's sole and exclusive property" in legal filings.
However, the removal of the EP from Amazon, iTunes and other outlets didn't stop fans from listening to some of the tracks. The title track, named Deliverance, received good reviews from those fortunate enough to listen while it was still online. The other tracks received mixed reviews.
The legal gray area wasn't the only controversy surrounding the six songs; while some fans rejoice at the idea of new material, others are concerned about the ethics regarding posthumous releases.
"Prince was very perfectionistic about his music…if he didn't like it, it would never hit the shelves," Moss said. "It's not right to release it, because he didn't want it to be heard."
The tracks on Deliverance were recorded between 2006 and 2008 with Ian Boxill, and never released to the public.