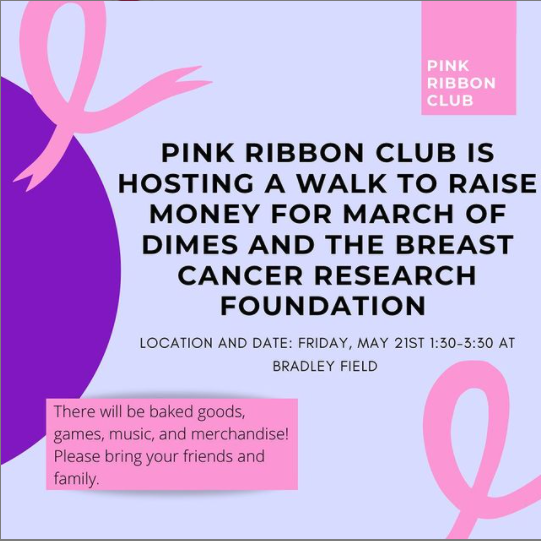 Pink Ribbon Club Instagram
The Pink Ribbon Club held a walk to raise money for the Breast Cancer Research Foundation and March of Dimes on Friday, May 21.
Hosted in person on Bradley Field, the event raised $500 by selling baked goods and Pink Ribbon Club merchandise. The proceeds will go towards funding research and raising awareness for women's health issues, including breast cancer and prematurity. According to estimates by Lisa Camera, the club advisor, at least 50 people attended.
"We didn't really know what to expect because of . . . how weird this year has been," Camera said. "And it was great. We had wonderful participation, a lot of . . . excitement and energy surrounding it. So it was great. We were really pleased and had some parents there. So the support was really appreciated."
The walk itself was inspired by the March of Dimes' March for Babies, which aims to collectively "take 500 million steps in honor of the nearly 500,000 babies born preterm or with congenital disabilities—a new way to raise critical funds for moms, babies, and families."
"We wanted to do something like that to raise awareness, and especially since we didn't have any in-person events [this year], we wanted to have a community event and have everyone come together for it, and keep that tradition of the walk happening," said senior Gabby Melamed, co-president of the Pink Ribbon Club with senior Sara Raubvogel.
Throughout the entire year, the Pink Ribbon Club held several fundraisers for the Breast Cancer Research Foundation and March of Dimes, raising over $2000 total, according to Melamed. Other than the walk, all were virtual programs, and some aimed to raise awareness around women's health issues.
"It's definitely difficult over COVID . . . we've had to adapt," Raubvogel explained. "We've had like three major fundraisers — at the beginning of the year, we had one in October for Breast Cancer Awareness Month, and we donated to the Breast Cancer Research Foundation and March of Dimes, and then we did our T-shirt sales, and then we just did the walk."
In past years, the Pink Ribbon Club has held various in-person events that were not options in 2020.
"We used to do a pink-out football game that we would do every year . . . one of the football games at Woodside would be dedicated to breast cancer awareness," Raubvogel said. "And usually the players would wear pink bandanas or something, and then everyone would wear pink, and then we would fundraise there. There was also a pink-out volleyball game usually. Usually, we sell shirts in the quad. Valentine's Day Grams is another one that we do."
Alongside adapting programs for quarantine, club meetings and creating a sense of community in the club changed. Despite this, club members and participation made progress this year.
"We had a thriving group, a growing group," Camera said. "So I was really impressed that kids were looking for those opportunities, you know, really did want to find ways to participate and be part of, you know, that extracurricular experience in school."
In order to connect to club members, the club's weekly meetings included icebreakers and sharing information about women's health.
"Every week, we would do [a] fact of the week, and we'd share a fact about women's health, and breast cancer, or maternity health, and then we would also try and implement educational videos or articles, or different forms of media so we could all learn about it," Raubvogel stated. "I think that a huge goal this year was building community, even in the midst of such chaos in the world."
The Pink Ribbon Club has been a Woodside club for over ten years, according to Camera. Though both co-presidents graduate this year, they hope the club supports women's health in the future.
"It's been an awesome club, it's for an amazing cause, and it's really great to be able to build a community in Woodside, with people who have similar interests in learning about these women's health issues," Melamed said. "And I encourage anyone who's not a [graduating] senior to join the club next year."
Breast cancer and difficult pregnancies are personal struggles for many families, including those of Woodside students.
"You just realize, you know, we need to put our energy to work, I think to put our grief to work, too," Camera shared. "The students really come together to do something totally selfless, but will eventually come back and benefit us later in life, like this is going to important research, it's going to be a blessing to all of us someday. . . . we all have our stories. And when you start asking, every family has those kinds of sad stories. . . . I think it helps to have some purpose."