The XS and XR iPhones Make Their Debut
Newest iPhone model came out in stores September 21st.
Hang on for a minute...we're trying to find some more stories you might like.
Apple released the new iPhones XS, XS Max, and the XR on September 12.
The new iPhones were announced and available for pre-order on September 12 and were available to receive on September 21.
As many people know, the larger iPhones were always followed by the word "plus," but now with the new iPhones, the word has changed into "max."  There is a new gold color option, and the phone's water resistance have been improved. Some people have been saying that it is a waste of money, but other people have rushed to get their hands on one of the new phones.
Some people are excited not because of the new phones, but because the prices start to drop for some of the older phones.
"I can now get the iPhone SE, before it is gone, and get it for 159 dollars," an anonymous source said.
However, Apple has discontinued the iPhones SE and the 6S.  The oldest option now is the iPhone 7, which has been reduced to 400 dollars.
"
I can now get the iPhone SE, before it is gone, and get it for 159 dollars."
— Anonymous Source
Additionally, there have been some problems with the iPhone X, which has discouraged people from buying the new iPhones.
"I have an iPhone X and I have had some problems with it, but that is more of a reason to not get the new iPhones right now," Giselle Mendez, a Woodside High School student, said. "I know the iPhone X was new when I got it, and I usually don't buy the newest phones, but I needed an upgrade. So that's why I got the iPhone X."

(Visited 37 times, 1 visits today)
About the Writer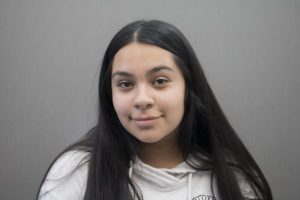 Fatima Barrera, Staff Writer
Fatima Barrera is a staff writer for the Woodside High School Paw Print. This is her first year in journalism. Her interests are listening to music and...