What's Going on with Woodside Wrestling
Hang on for a minute...we're trying to find some more stories you might like.
The Woodside High School Boys and Girls wrestling team are hitting the mats hard this season.
After a rough winter season last year combined with the loss of six valuable seniors, the team this year is off to a 0-2 start. Despite the rough patch that the 2017-2018 team has faced thus far, there are noticeable improvements in comparison to last year's squad. The team's chemistry is rising and the Wildcats are beginning to hit their stride as they begin to face more league opponents in the upcoming month.
"The best part about being on the wrestling team is that it is like being part of a family where everyone supports each other," Luis Espino, senior captain, stated.
Surprisingly, the squad is not just one girls team and one boys team, but instead a co-ed team that works together in practice and games in hopes of victory. Unfortunately, the team is so small that the Wildcats are forced to wrestle at a disadvantage at times.
"At meets, if a coach decides to put a girl in the lineup (since there is only one wrestler per weight class) she will most likely wrestle a boy, since the other team's coach will most likely put in a boy, as they probably have a better chance at winning," Junior wrestling captain, Melissa Crane said. "I say this since in each weight class, boys are generally taller and stronger than the girls."
Despite the fact that some girls on the team may be smaller than their male opponents and counterparts, don't count them out as solid competitors.
"The only difference that I see between boys and girls wrestling is the way we wrestle. Girls generally don't have as much muscle, we wrestle more technically and use our knowledge of the sport and technique, while with most guys they just depend on their strength to win," Crane added.
Knowledge and skill within the competitive and unrelenting nature of the sport of wrestling are key for success.
"Meets can be intimidating with usually four different schools in one gym. One team will face another team going through each weight class," senior Matthew Kerr explained. "The team that wins the most weight classes wins the overall meet."
The intimidation factor involved in wrestling is heightened this year for the Wildcats, who struggle with insufficient numbers during meets.
"We lose the meets due to the fact that we have a very small team. For each weight class that we don't have a wrestler in, and that the other team does, we forfeit all the points to the other team," Crane commented.
Despite the struggles that the Wildcats are forced to push through this year, they continue to work extremely hard in practice, pushing themselves to their limit.
"The schedule is pretty packed practice is 2 hrs 5 days a week. Our coach usually tries to schedule a tournament most weekends and meets are Thursdays," Kerr added.
Even though the Wildcats practice and play their hardest, attendance is still relatively low from Woodside students and faculty for their meets. It is up to the Woodside community to help support their wrestling team to victory!
"As far as I remember, the only people who showed up were the close friends of the people on the team (mostly mine), parents, and the other teams. I've seen the same sort of attendance meets at other schools," Crane said. "I think this definitely should change. The school needs to publicize/announce the wrestling meets, especially the home ones. Last week's meet wasn't even put on the announcements."

(Visited 45 times, 1 visits today)
About the Writer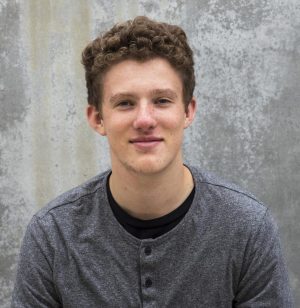 Beck Patrone, Sports Editor
Beck Patrone, a sports editor and writer for Woodside Paw Print, is in his second year of journalism for the school. His interest in journalism surged when he toured several colleges in California searching for a major that could interest him. Journalism caught his eye and he became enticed by the subject as a whole. Some topics that Beck is passionate about include sports, entertainment, and politics. Some of his favorite events that he covered on the Woodside Paw Print include sports coverage and interviewing authority figures at the school.  In college, he hopes to major in business or communications as he will use Woodside Paw Print as a springboard for his career in either one of those professions.