Protest Progress
Hang on for a minute...we're trying to find some more stories you might like.
A Women's March took place in San Francisco on Saturday, January 20 as a follow-up to last year's march, encouraging women to vote in the 2018 midterms.
Hundreds of thousands of people marched throughout the country, and even Europeans held marches. Cities throughout California, including San Francisco, Oakland, and Los Angeles, held marches. About 50,000 people marched in San Francisco, along with about the same amount in Oakland, and 500,000 people attended the Los Angeles march.
The marches marked the anniversary of last year's protests and aimed to promote human rights.  Woodside students attended the women's march for various reasons, although most went simply because of the its intentions.
"I am going to the Women's March because I believe in things that the march is promoting. I think it is important," Jet Thippawong, a Woodside sophomore, says.
The march was not only a political event; some also saw it as a fun thing to do over the weekend.
"I went to the march because I wanted to be supportive towards women's rights and because it would be a fun thing to do," Charlotte Dyson-Knight, a high schooler from Australia, comments.
However, some students did not attend because of the lack of publicity surrounding the event.
"I was not informed that a march was going on," Tommy Person, a Woodside sophomore, admits.
Many students did not hear about the march in time or had already made commitments for that day.
"I didn't go to the Women's March first because I didn't know it was happening, and second, by the time I found out, I already had made other plans," Zoe Mason, a sophomore at Woodside, explains.
Members of the Woodside community were mostly optimistic about the effect of the march.

"Even if no official legislation is changed as a direct result of one march, marches get publicity," Mason asserts. "Silence does no better than an ineffective march."
Despite this hope, some students were still hesitant about the success of the marches.

"In a way, it was effective. For example, I think it was effective in terms of inspiring others to protest and join a cause," Omar Bravo, a sophomore at Woodside, said. "Unfortunately, I don't think it was effective in ways to change the government."
Some students believe that more events like it would not be beneficial to the community.

"Marches, while great, can desensitize an issue. When people are like, 'Oh my God, there's another march,' then our voices and changes will go unheard and so we have to find that balance," Mason mentions.

Students had different experiences at the march, although many had positive comments to make.
"It was a lot of walking and standing around and a lot of hours," Bravo admits. "Overall, it was great because I got to spend time with my friends, and I guess that's what made it much better."
The Women's Marches helped students feel supported and reinforced their sense of community.
"It was very fun. It felt good to be a part of something, and it felt like, in a way, you're making a difference by being there," Dyson-Knight reflects. "You could tell you were in a community, and you felt supported, and you felt heard, and you felt loved."

(Visited 40 times, 1 visits today)
About the Writer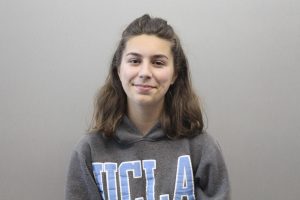 Chloe Postlewaite, Design Editor/Arts & Entertainment Editor
Chloe Postlewaite is the Design Editor, Arts & Entertainment Editor, and a second-year journalism student. She has had a lot of fun with journalism...